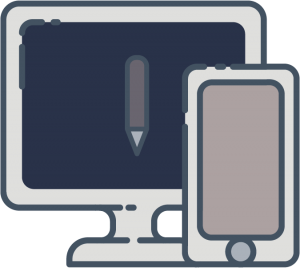 WEB DESIGN
When it comes to web design, there is no other firm that can produce the same stunning look and feel that we create for our clients. We understand that your business is important to you, and that you may have already done a lot of work towards creating either a color scheme or layout. We never want you to feel that your efforts weren't valuable, because they've obviously worked for you for this long. Our goal is to take your creations and propel them to a higher level. We will use your existing logo and web design for inspiration when creating your new look. We aim to make a newer and enhanced version of what you started with.
Easy Navigation for Your Users
While visual appeal is very important for the branding of your business, we have often seen business websites that are way too visually focused. If you go overboard with the visual design of your website, it can easily turn into a mess of pictures, slides, and animations that are confusing to navigate through. The last thing you want to do is make it hard and confusing for someone to use your website. If someone gets lost while trying to learn about your services, you can bet that they are just going to click away from your page and then visit the next business down on the listing. It isn't all about the visuals, and we completely get this.
Professional Logo Design.
Our expert design team can focus on your business and work with you to create the perfect logo for your branding. We understand the importance of creating a high quality logo that can also be modified for different uses.